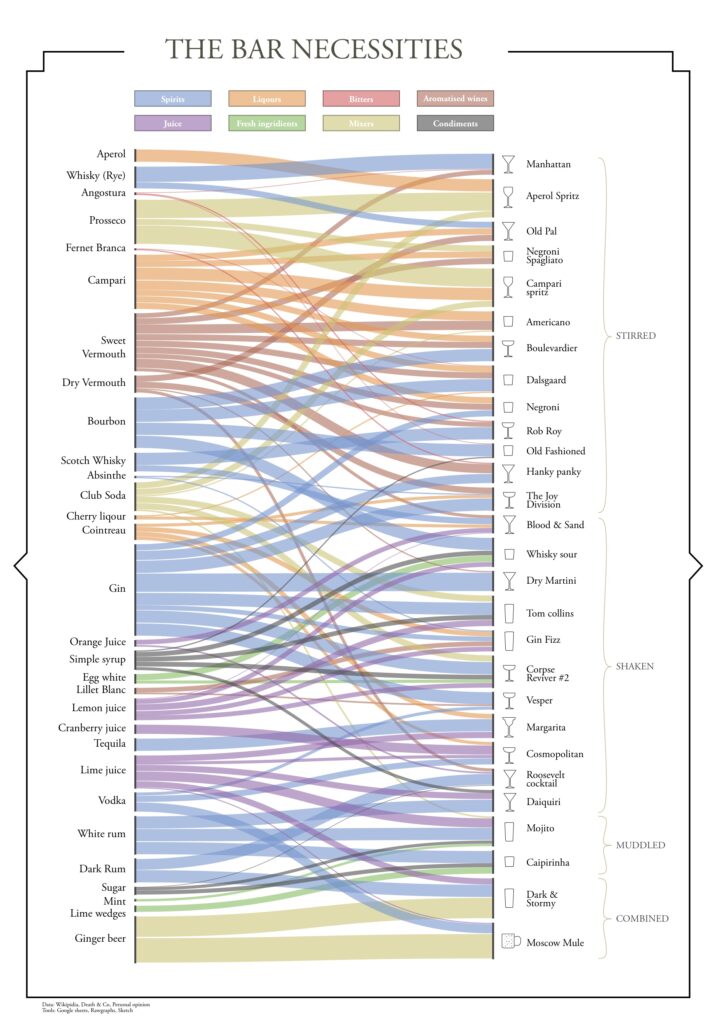 I love cocktails, and I love data.
I had this data visualisation idea for a long time, and finally put it together for a party a while back.
What I really like is that both the ingredients and cocktails are organised automatically optimising for shortest distance. This results in drinks with similar flavour profiles being listed together. My ambition is to share a nice photo and a recipe for all of these drinks on here.
The visualisation should also serve as a nice way to think about what to buy when starting a home bar. For instance, it's clear that Gin, Sweet Vermouth and Campari is a cornerstone of many drinks. These are also the three ingredients to the Negroni, so with just these, you can already get started with your home bar. Keep in mind, however, that these drinks are ruthlessly selected based on my preference, so what it really tells you simply that I really like Gin, Vermouth and Campari.
There is, of course, a big spreadsheet behind all this which can be seen here. I used one of my favourite visualisation tools RAWGRAPHS to make the alluvial diagram as a vector file and Sketch to design the poster.
Based on the data of drinks that I make, I would suggest you stack your bar with the following:
| | | |
| --- | --- | --- |
| Ingredient | Type | In cocktails |
| Sweet Vermouth | Aromatised wine | 10 |
| Gin | Spirit | 10 |
| Campari | Bitters | 8 |
| Vodka | Spirit | 6 |
| Dry Vermouth | Aromatised wine | 5 |
| Bourbon | Spirit | 5 |
| Angostura | Bitters | 4 |
| Cointreau | Liqueur | 4 |
| White rum | Spirit | 3 |
| Whisky (Rye) | Spirit | 3 |
| Absinthe | Spirit | 3 |
| Lillet Blanc | Aromatised wine | 2 |
| Fernet Branca | Bitters | 2 |
| Cherry liqueur | Liqueur | 2 |
| Scotch Whisky | Spirit | 2 |
| Dark Rum | Spirit | 2 |
| Tequila | Spirit | 2 |
| Peychaud's Bitters | Bitters | 1 |
| Aperol | Bitters | 1 |
| Cognac | Spirit | 1 |
| Calvados | Spirit | 1 |